I had asked my girlfriend Ashlee to to assist me shooting an elopement ceremony on the beach in Laguna. She had done this once before so it wasn't too much of a shock. I told her it would be just the couple, the coordinator, a pastor and a dinner setup for two on the beach. Little did she know that the couple wasn't real and I was staging her proposal.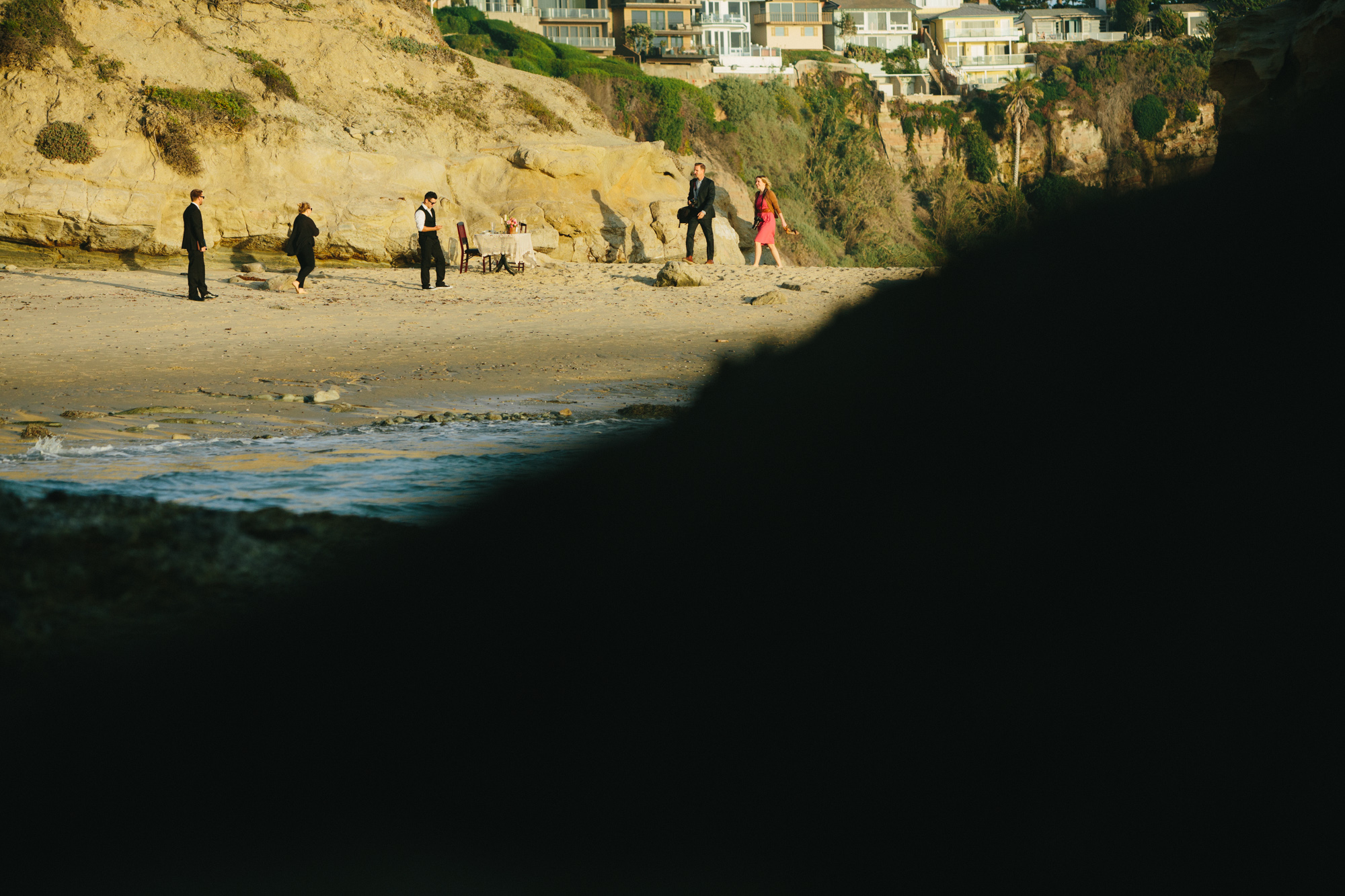 We arrived early to scout and prep for the ceremony when my friend Kari, the coordinator, came over to inform us that the fake couple, Joel and Cindy, were running 20-30min late, stuck in traffic on PCH. So she said, "You can eat your meals now," while we waited for the couple to arrive. She mentioned she had "doubles of everything on the table" and so Ashlee felt okay taking a seat.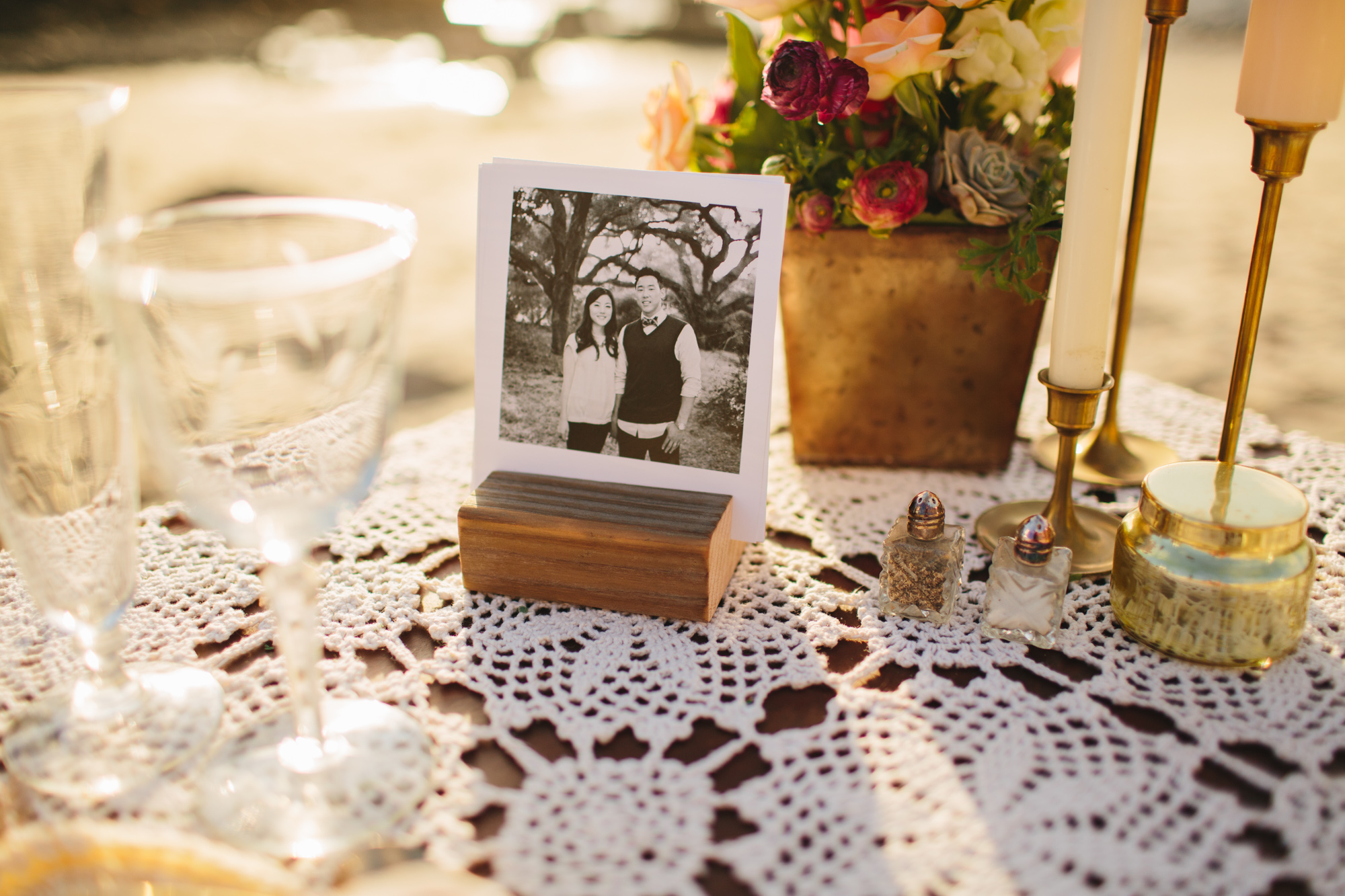 With a stack of photos of the fake couple staring at us, we had dinner all the while she remarked, "This is so weird, I feel like we're stealing Joel and Cindy's romantic evening!" though, I might note, that didn't keep her from finishing her entire burger and beer, which was an echo back to our first date at Crow Burger on Balboa Island.
Eventually, towards the end of our meal, I revealed to her that we were the couple and pointed to the stack of photos on the table. Behind the first couple prints of Joel and Cindy were photos of the two of us. This is when she knew what was actually happening and started to get really giddy. I told her I wanted to show her something and led her to the shoreline. Then I said I wanted to give her something and walked over to my gear bag and grabbed a memory book, filled with photos and cartoons documenting our dating history, and also the ring, which I hid in my suit jacket pocket.
I returned to Ashlee, first giving her the memory book and we peeled through a few pages recalling some classic moments from dating. The sun was setting quickly so I had her set the book aside and immediately dropped to a knee, shared my heart, pulled out the ring and asked her to marry. She said it all felt so surreal, replied "Yes!" and then awkwardly tried to hug and take a seat on my bended knee :)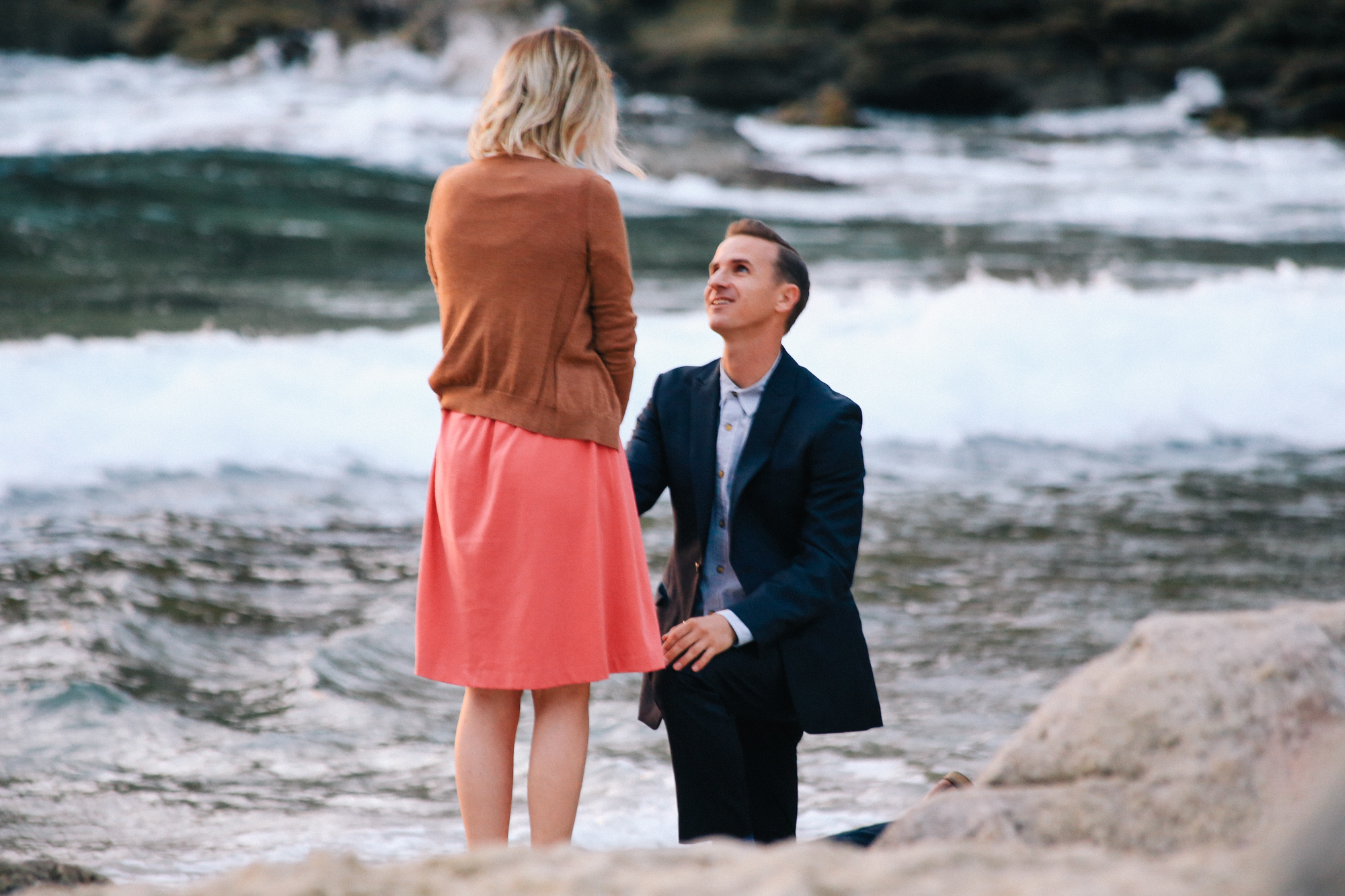 Afterwards, we called our parents and Ashlee was talking with her Mom, who lives about an hour north, while we headed over to visit my parent's house who live locally. Her Mom told us congrats and said she would see us Monday, hopefully! Little did Ashlee know that both sides of our families were waiting to surprise and celebrate at my parent's house. It was awesome - she was so surprised and this was probably my favorite part, getting to have everyone there to celebrate.
To cap things off, an hour later in the middle of celebrating, a final surprise came when the photographers Seth and Hugh, sent over a link to all the photos they had taken. It was so rad! We received the link and were able to sit down together and share our proposal with everyone.
Seth busted out this time lapse video and sent it over with the images